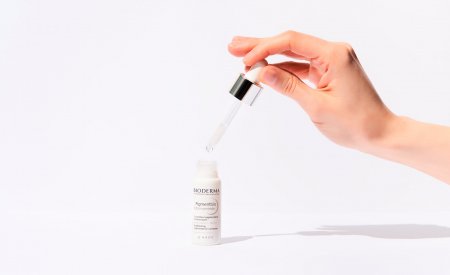 Solutions & Treatments
Restorative light throughout the night
Pigmentbio C-Concentrate
The powerful care of fresh vitamin C to fight dark spots on the face
Whether they seep progressively into skin over the years or appear all at once, dark spots are harder to accept when they're found on your face. Pregnancy mask (melasma), age spots tied to sun exposure, post-inflammatory scarring or other marks… Hyperpigmentation gives your complexion a blurred look that is the exact opposite of youth's glow.
How can you dramatically eliminate these dark spots that darken your mood, without irritating your skin? Bioderma's Pigmentbio C-Concentrate serum is inspired by standard dermatological treatments. You benefit from fresh vitamin C's brightening properties in the comfort of your home. It's like a shock treatment for dark spots – that is completely gentle for your skin!
A new approach to caring for hyperpigmentation
Numerous solutions exist to correct dark spots. But some do present risks for skin, especially if it's sensitive. Pigmentbio C-Concentrate dark spot corrector combines the performance of an intensely brightening dermatological formula with very high tolerance, even for sensitive skin. This highly concentrated product acts on dark spots that are already on the skin, as well as preventing the appearance of new hyperpigmentation.
Combining the most effective active ingredients for dark spots
Bioderma's Pigmentbio C-Concentrate serum fuses all the most well-known active ingredients to eliminate dark spots into one unique blend with intense powers of pigment correction.
Vitamin C (or ascorbic acid) is highly recognised for its hyperpigmentation corrective action. For the C-Concentrate pigment corrector, Bioderma selected ascorbyl glucoside, a derivative of vitamin C that is six times more effective at brightening melanin. This highly concentrated form doesn't oxidise as quickly as the pure form and is also stable for longer. Extremely effective, vitamin C is also one of the most fragile vitamins. To ensure that all its power stays intact, Bioderma developed an ingenious canister system that protects it from air and light until the moment that you use it. You press firmly on the bottle's lid to release it. Once the powder has been completely emptied into the bottle, remove the lid, screw on the dropper and shake well to thoroughly mix the different ingredients. The safety of your product is guaranteed and makes all the difference…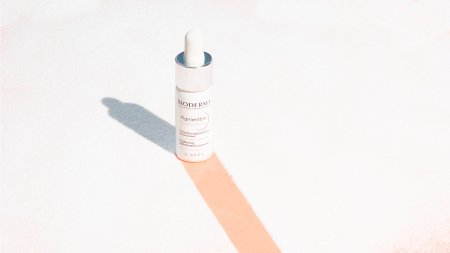 LumiRevealTM Technology, exclusively from Laboratoire Bioderma, is directly inspired by the Kligman's trio. This dermatological treatment, frequently prescribed by dermatologists to treat hyperpigmentation, acts on the different phases in melanin's cycle.

AHAs are among the classic ingredients used to brighten complexion. Glycolic acid and salicylic acid create a gentle peeling effect that boosts cellular renewal, for skin that is smooth and radiant once again.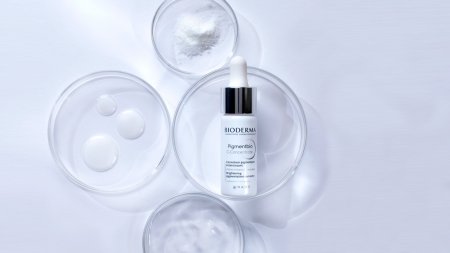 Used alone, these active ingredients, highly effective in treating dark spots, can be aggressive on skin. This is why Pigmentbio C-Concentrate is also a hydrating serum. It contains a complex of vitamin E and vitamin PP which act in synergy to moisturise, protect skin and strengthen the skin barrier. Even if your skin is sensitive, you can still do one or more Pigmentbio C-Concentrate serum treatments throughout the year, without drying out your skin.
A new care routine for use throughout the year
The most effective dermatological treatments, carried out under medical supervision, can only be followed for two months twice a year, maximum, without running the risk of sensitising skin. Thanks to a formula that is both highly effective and entirely safe, Pigmentbio C-Concentrate skin care treatments can be applied as and when needed, in total safety.
Fewer than 30 nights to illuminate your complexion
Dark spot surface is reduced by half after 1 month of use1
According to a clinical study carried out on 41 women with melasma
9 out of 10 women are satisfied

2

+87% radiance3
1

Clinical study performed on women with melasma during five months, 41 women – Brazil – Photo analysis
2 Clinical study performed on women with melasma during five months, 41 women – Brazil – Subjective evaluation
3 Dermatologist-graded assessment on 21 subjects presenting dark spots on the face, during 8 weeks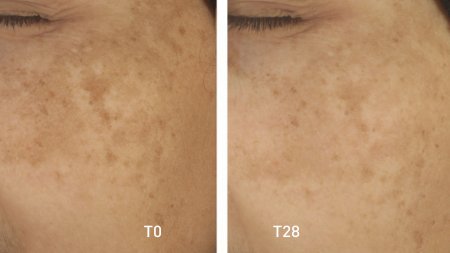 As a skin expert, Bioderma developed its anti-dark spot serum to be used as an overnight skin care treatment. Thanks to its high concentration of active brightening ingredients, five drops of Pigmentbio C-Concentrate serum are all that is required to treat your face and neck. Apply each night on skin where make-up has been removed and that has been carefully cleaned with Pigmentbio H2O or Pigmentbio Foaming Cream. This serum can be used on its own or following a dermatological treatment, such as a peeling or laser treatment. During the day, don't hesitate to strengthen its brightening action by supplementing with Pigmentbio Daily Care SPF50+, a two-in-one product that both moisturises and protects against the sun and UV rays.